So, click to enlarge this photo. Look close.




No, I am not a seamstress for Pottery Barn Kids.

We bought this crib bumper five years ago at PBK...my daughter used it, and then my son. Then one day last year, my wife was washing and changing his bedding when I heard her yell out in the next room. I ran in to find her holding this thing and saying "Look at this!!"

One of the $1000 per hour assembly gurus in a foreign manufacturing facility had been sewing away, only to lose their needle inside the bumper. And at that point, given their obvious attention to detail, they opted to leave that sucker in there, and simply grab a new one...all the while thinking, "serves you right, American Pig Dogs."

Now, living in the litigious society we do, we sued that foreigner, their government, Pottery Barn, and several mommies in the courtroom audience who had simply come to support us...no we didn't. We aren't really the "suing type", and we have more money than God. (snicker)

We took this bumper back 4 years after we bought it, explained what happened to the $1000 per hour employee at our local PBK, who then tried to tell me that she would have to give me the clearance price as it was 4 years old.

I threw the calmest and yet most ominous hissy you have ever heard. I cited the following points:

This pin could have skewered my daughter's eyeball.
Or my son's.
My tone is deceiving. When I sound calm is when you should know how critically and post office furious I am.
We are not sue-happy people.
We came here first, not Channel 8.
I am relatively well-spoken, and wouldn't mind speaking to several hundred people in the mall today.
I am happy to wait while you find out how to give me full value for your death bumper.

We got our money back.



Related Posts:
Wordful Wednesday - "Watch Yer Mouth, Kid."
Wordful Wednesday - "Bad Dreams"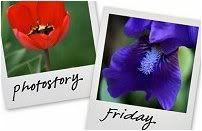 Hosted by Cecily and

MamaGeek