After my friend Holly posted her hilarious pictorial of trying to get her annual bluebonnet shots, I was reminded of what an amazing time of year this is in Texas, right before it starts to get stink-hot.

Two years ago my daughter gave us some glorious shots in the endless state flowers, and I was reminded today about how difficult it was to coax a smile out of a 2 year old, who only wanted to try to pick the protected flower.

So whaddya do? Ask her what she wants for her birthday, and snap away.

"Belle, Sleeping Beauty, Snow White, a princess bike, a princess dress, a princess party, a princess cake... "

An amazing time of year for the Bluebonnet,

An amazing time of year for Daddys.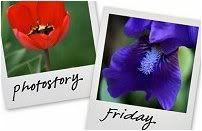 Hosted by Cecily and MamaGeek

Do you know about Dad-Blogs? Go see...
I really like these guys.