IamsofrickinexcitedIcantstandittomorrowIgettoshavemyheadforsomeamazingkidsandIcantdescribehowamazingthinsmakesmefeelinsidebutmaybetypinglikethisgivesyousomeideawhatitsliketobeinmyheadIknowdontpityme.

Well, we're coming down to the wire. Tomorrow (Saturday) I shave my head for children's cancer research. If you want to donate and enter the phenomenal contest that ends tomorrow, do it fast!


(No, I havent shaved my head already...these photos were from last year's event)
Look at the amazing prizes that will be given away:
Your name on my HEAD, and more! Donated by Jay.
A Handstamped Silver Necklace, Donated by Kristen
An Ifeoma Scarf, Donated by Christina.
A Jar of Fresh Pumpkin Butter, Donated by Tabitha.
Two Fantastic Books, Donated by Cheryl The Blonde.
A Tea For Two Body Butter Gift Set, Donated by Sera.
10 Beautiful Custom Cards, Donated by Briana.
A Scent-Sations Jar Candle, Donated by Gena.
$20 in Lottery Scratchers, Donated by Me.
My St. Baldrick's Lapel Pin, Donated by Me.
And FOUR St. Baldrick's Tshirts, Donated by Me.
For more information, pictures, and a chance at the goods,
visit the contest page
!
To all of you, I thank you for your generosity towards this important cause. I am SO looking forward to sharing the video of my shaving with you all as soon as I can post it after Saturday, and I will try to put into words what I and the throngs of people are feeling that come out to support these kids.
As soon as I have a final tally on donations after Saturday, I will post how you and I did...but for now, give 'till it hurts. Then give just a little more. ;-)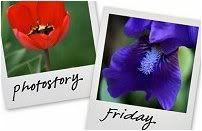 Hosted by Cecily and MamaGeek