Tonight I sit and think fondly of a lady I have only known but a few months. And despite the vastness of the bloggyverse, I logged on for the first time, and there she was.

It was like walking down the hall in high school past the most popular of the cheerleaders, and not wanting to breathe for fear she might not care for your smell, and doom you to cafeteria mediocrity. So cute, so perky, those who strode in her wake could only wish for a mis-step, and never witness one.

In fact, to see her in all her glory was to be instantly envious of her popularity. And the only way to deal with it was to imagine her to be a royal conniving bitch.

Only she wasn't. She was sweet, and helpful, and accommodating, and funny, and loyal...and...


Infectious.
So tonight, Jenni, as winner of the 2009 St. Baldrick's Contest Grand Prize, I honor you. And what's more, I get to honor you as a person who genuinely enjoys your blogspunk and positive spirit. Not like if I were having to sit here and pretend that I think
Jill Jill
is hysterical, or
Em
is a gifted writer, or worse yet, pretend
Candice
isn't a Dirty Pirate Hooker. Shudder.
No, I have been a fan of Jenni's since I got here. And there was even a time last winter when she was going thru her "blue period", with some rather disturbing images having to do with Santa Erotica..
I didn't understand, but I supported her.
And then there was all that time she was dressing her kids like Edward.
Gotta be honest, didn't understand that either.
But do you know WHY I stood by her all this time?
Oh yeah, buddy. Meow.
Your button is in place on my left sidebar, my friend, and there it shall stay for a period of no less than 3 months...so sayeth the shepherd, so sayeth the flock. Any questions, please see my lawyer.
Congratulations, Jenni Bean.
I love your blog
.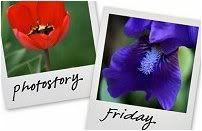 Hosted by Cecily and

MamaGeek